NOTTING HILL CARNIVAL
With the arrival of August, the streets of London witnesses one of the most extravagant carnivals around the world. As the month advances slowly, there is a progressive drop in the temperature as summer slowly blends into autumn. The onset of this season makes the city alive as the streets of West London celebrate a huge Caribbean party with relish on August Bank Holiday weekend which is also considered as Europe's biggest street festivals.
The event is organized by the people of British West Indian communities and it is an auspicious occasion for the British West Indian Culture. It happens every year in London. The carnival, for the most part, sets in motion on Saturday and continues for 2 days including Monday which is a bank holiday. It involves, like most other carnivals, a series of processions of dance and music. The street is ornamented with beautiful and vibrant colours while there is a flamboyant display of dance and costumes by the performers. There is also a substantial use of masquerades or face masks which is a significant feature of the three-day festival.
For three consecutive days, the street is jam-packed with Caribbean culture, dance, and music. It serves as an impetus to the on-going spirit of the carnival. Traditional dances such as Limbo, merengue, calypso, and rumba are performed in Caribbean clad costumes. The atmosphere is filled with distinctive Caribbean music like Reggae and Zouk music. The festivity includes foods and tropical drinks mainly consisting rum as the primary ingredient.
                                                                A fruit stall at Notting Hill Carnival          
If the carnival is like any other street carnival then why is it so significant in the history of London? It is because it instils a spirit of freedom within the fellow British Caribbean communities. The carnival serves as a vital and significant event for them. The carnival marks as the termination of the racial slur that the British West Indian community had faced in their past. It was first celebrated in 1959 at St. Pancras Town Hall in London. It also marked the end of racial differences between the native Britons and the British West Indians.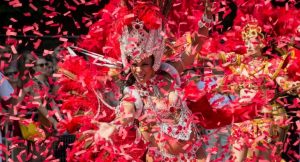 In this fashion, the event is about merry-making with drinks and food. You can find exquisite food, drinks, and entertainment throughout the festival. The leisure activities and the merriment make it an absolute event to stop over. And most importantly, you don't require tickets to attend the Notting Hill Carnival, it's free!